Thistle Essential
A complete range for 2-coat plastering requirements. Our stocks allow for applications to include:
Thistle MultiFinish
A versatile skim plaster for finishing most plaster and plasterboard backgrounds and ideal for small repair jobs and patching. When utilised as a skimming plaster on GypWall classic wall and ceiling systems acoustically you may achieve up to 2 db improvements to sound reduction performance.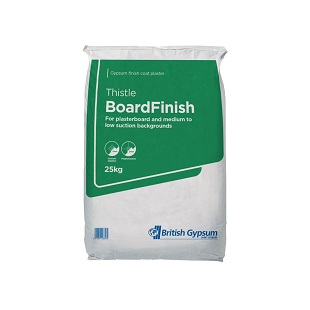 Thistle BoardFinish
The preferred choice for skim plaster to plasterboard substrates and with areas of low to medium suction backgrounds.
Thistle BondingCoat
An ideal basecoat plaster for smooth or low suction backgrounds to include tiling, concrete or plasterboard surfaces with Thistle Bond-it priming agents or suitably approved alternatives.
Thistle HardWall
A quick drying undercoat plaster for high impact resistance with most masonry substrates to include bricks and medium density and aircrete blocks, hand or spray applied application.
Thistle ToughCoat
This has high coverage and high impact resistance on application. Both hand and machine applied to most masonry backgrounds.
Thistle DriCoat
A cement based undercoat utilised for re-plastering after installation of damp proofing refurbishments with hygroscopic salt issues and restrict salt migration.
Thistle Universal OneCoat
A versatile undercoat and finish plaster in one product to be used in various internal applications and substrates to include brick, blockwork, plasterboard and concrete. Additionally, for any gap and hole filling requirements.
UNDERCOAT PLASTER DOWNLOADS

(PDS = Product Data Sheet/SDS = Safety Data Sheet)
FOR MORE INFORMATION, OR TO PLACE AN ORDER CONTACT OUR TEAM ON:
0151 363 1677
Please note:
We have tried to provide information on our website mainly for technical and product specific purposes. To our knowledge this information is current but we are always reliant on the various manufacturers keeping us informed of any changes or updates where applicable. Can we ask that for any specific help or assistance that you either make contact with our office and or visit our trade counter showroom were one of our team members who are solely focused on providing expert advice for your project and specification needs will be pleased to help!