KNAUF DRYWALL
Knauf Drywall offer a comprehensive range of product options to support the needs
of both the Architect with specification and the contractor for installation solutions.
For partitions, wall & soffit linings detailed as below:
Knauf Isolator
(Best for Acoustic performance up to 76 dB/RW) for residential and commercial sectors being a twin frame solution helping to accommodate vertical services and meeting up to severe duty standards, 2.6m – 5.7mt height range, 170 – 300mm partition depths.
Knauf Performer
(being the most versatile within their range) which utilises all boards as produced within the Knauf range for ease of application.
3.2 – 4.2mt height range, single and double board options, 48 – 65 dB(Rw) acoustic reductions, 102 – 164mm partition depths and severe duty for impact and with 60/60 & 90/90fire (integrity & insulation) levels being met.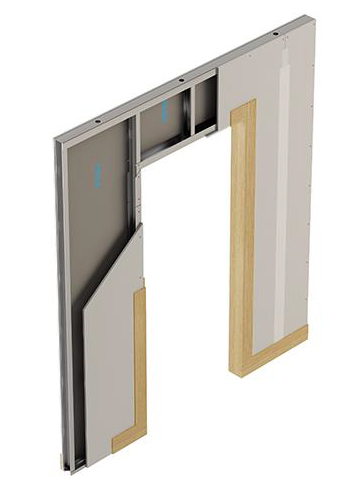 Knauf Shaftwall
(forming enclosures to service and lift shafts) applied from one side only, simplistic in design with minimal components to construct for sever duty impact levels.
60:30, 90:60 & 120:90 fire ratings, 4.3mt – 5.0mt height range 77, 87 and 92mm partition depths.
Knauf Aquapanel interior
(wall linings & partitions for wet areas)
Resisting mould and mildew, tough and strong when constructed and supporting up to 120kg/m2 of tiles when needed.
A1 /11 system reference, 44Db(Rw) sound, 2.7mt maximum height and 77mm partition depth.
Wall Linings
Helps to avoid background preparation, versatile in application for depth helping with service voids were needed.
Again, utilises the complete Knauf plasterboard range and almost any insulation requirements as needed and also available in a direct bonding and metal furring variances, if required.
Soffit Linings
(Knauf MF Suspended ceilings)
Helping to meet the demands as placed on performance criteria with consideration for detail on meeting all fire and acoustic needs and at the same time helping to hide unsightly services.
Very Familiar solution for drywall contractors and helps achieve detailing to include openings, bulkheads and coffers with fire protection up to 2 hour levels and fast and easy install time frames.
General
Knauf support both the contractor and architect alike, CPD seminars, site support and additionally with comprehensive product warranty, literature and construction detailing when needed.
Being so comprehensive we would ask that you please make contact with our office and one of our team would be pleased to help with your enquiry and the specifics for your considered project or application requirements.
Project Sectors include:
• Commercial
• Education
• Healthcare
• Residential
Usage Guide
Acoustics, Fire, Impact, Moisture and Thermal requirements.
FOR MORE INFORMATION, OR TO PLACE AN ORDER CONTACT OUR TEAM ON:
0151 363 1677
Please note:
We have tried to provide information on our website mainly for technical and product specific purposes. To our knowledge this information is current but we are always reliant on the various manufacturers keeping us informed of any changes or updates where applicable. Can we ask that for any specific help or assistance that you either make contact with our office and or visit our trade counter showroom were one of our team members who are solely focused on providing expert advice for your project and specification needs will be pleased to help!